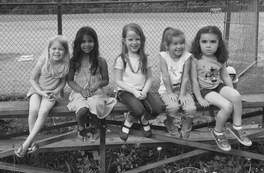 The other day I was having a conversation with a business owner in our community. When the conversation turned to Waterbrook he began to tell me what a good job I had done on our success and growth over the past few years. Personally, I receive a lot of credit for what is happening at Waterbrook, and while I am very grateful for it, I am quick to state the true reasons for our school's success. After thanking this gentleman for his kind words, I asked him what he thought went into operating a successful Christian school.

He gave me several good "business answers," and I clearly understood that he had no idea what the driving force behind a successful Christian school is. It's not one person sitting in the principal's office. It's not even a group of people sitting on a board. The driving force behind a successful Christian school has two engines: The first is every teacher in the classroom, and we have the very best teachers in the state. I mean that. I love our teachers. They are the backbone behind our success, and they care deeply about your children.

The second engine to the driving force is you. Our parents. Our grandparents. Our families. I know, it sounds cliche,` but it's true. Some schools are board driven; some schools are principal driven; this school is family driven. Allow me to give you some examples:

1. At the start of the year some of the Moms (you know who you are) came to me asking if there was a room they could have in the morning to start the day off praying for me, the staff, and the students. Of course I said "yes." I loved the idea and I hoped it would last through September. Here we are in the last few days of school, and those same Moms are still meeting in the morning in that same room praying for your children. I love that. This school is family driven.

2. Every day during lunch period I can look across the hall and see any number of parents in the lunch room maintaining order, serving food, cleaning tables, vacuuming floors, washing dishes, wiping mouths, and lining up children for recess. This is such a crucial point in the day, yet often overlooked because it's not academic. But if something goes wrong here, the whole day for a child can go to pieces in a heartbeat. However, we have parents at the ready who are prepared to pick up those pieces. Thank you, Roy Hall. Thank you, Cassie Birtles. Thank you, Amanda Loudermilk. Thank you, Lindsey & Holger Spiewak. Thank you, Anna Dean. Thank you, Mary Harkless. Thank you, Dawn Cadle. I love that you guys are here during lunch time. This school is family driven.

3. A few weeks ago, many of you gave up your days to hang out at a garage sale at JoEllen and Mark Grant's barn . . . many of you helped set up . . . drop off tables . . . price items . . . sit around all day . . . and help tear down. All the while raising over $1700 for WCA. Thank you, JoEllen and Mark Grant, Ashley Beach and all of your helpers for organizing and running the garage sale, and thank you to Maryann Morrin for taking the leftovers to be sold at your garage sale. This school is family driven.

4. For weeks April Cliber, Sarah Stanfill, and JoEllen Grant took time out of their day - for several days a week - to prepare our students for the patriotic tribute and the Spring Celebration. Thank you for doing that. Thank you for that wonderful patriotic program that honored our veterans. This school is family driven.


5. For months many of you have been pounding the pavement for bowling lane sponsors, creating sponsor posters, and working tirelessly behind the scenes to make the bowling event such a wonderful success. You know who you are. Thank you for doing that. This school is family driven.

6. Every Friday afternoon you'll find Rhonda Verbias in the cafeteria making popcorn for the kids. They love that! Thank you, Rhonda. This school is family driven.

7. Thank you, Crystal Jamerson, for leaving work early to rush over to WCA to organize classroom parties. This school is family driven.

8. Thank you to all of the Moms & Dads who served on the PTO and organized the family fun nights among all of the other PTO events. Especially to the officers, Dawn Cadle, April Cliber, Tara Stephenson, and JoEllen Grant, as well as Brandie Ball for organizing the book fares. This school is family driven.

9. Thank you Cassie Birtles and Brandie Ball for organizing the cheer/pom squad, and driving the girls to games. It's these new programs that add richness and depth to WCA. This school is family driven.


10. Thank you, Rebekah Survance, for your banquet decorations and parting gifts to the teams and players. Your talents added the perfect touch to those events. This school is family driven.


11. Every Wednesday afternoon you'll find Jason Rohde teaching our Bible class to the 7th-12th graders, and every Thursday morning you'll find him doing our devotion with the same group. He does this like clock work with nothing in return. Thank you, Jason. This school is family driven.


12. No one will every see the web/technical work that Jason Justice does for WCA in between his 12 hour work days. Thank you for your many hours in building our grading program, Jason. This school is family driven.


13. There are several ladies that you'll find in the building just doing whatever . . . whatever is needed with or without being asked. Thank you, Dawn Vito. Thank you, Danalynn Phelps, Thank you Amanda Dues, Thank you, Nicole Norris. Thank you, Shana Miller. This is the attitude that drives us. This is the attitude that fuels the engine.


These are only a few examples. I wish I would have been keeping a journal this year of the times I noticed one of you doing something in this building that added value to Waterbrook. I would have many pages filled. So when people notice our success, and give me credit for our accomplishments, while being thankful for their words, I am quick to let them know what truly goes into making a Christian school a success. Thank you for making Waterbrook a success.