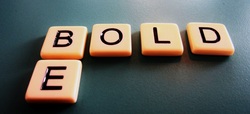 In her article for Inc magazine entitled
How to Become the Most Compelling Person You Know
, Lolly Daskal lists 10 things you can do to live your most compelling life. While all 10 are excellent suggestions, her first idea - Be Bold - is a great place to start while we are still in the shadow of the new year. She offers these examples on ways one might be bold:
Dare to instigate

T

ake chances

Create opportunities

Make things happen

Risk greatness
When I reached the last example I stopped reading. Risk greatness.
How does one go about risking greatness? What if I'm not great? What if I've never done anything that would be perceived as great? In order to risk something do you not need possession of it?
Not necessarily.
In physics, potential energy is unused energy - energy that has not yet been tapped into. In life, potential greatness is unused greatness - greatness that has not yet been tapped into. In this case, the mere potential for greatness counts.
All of us have the potential for greatness inside of us, and it is that potential that we must risk, and we can do so by taking that first step. What are you dreaming about? What thing would you like to accomplish in 2015? The world will never know unless you risk the greatness that is inside of you.
You don't have to be great to start, but you have to start to be great -Zig Ziglar